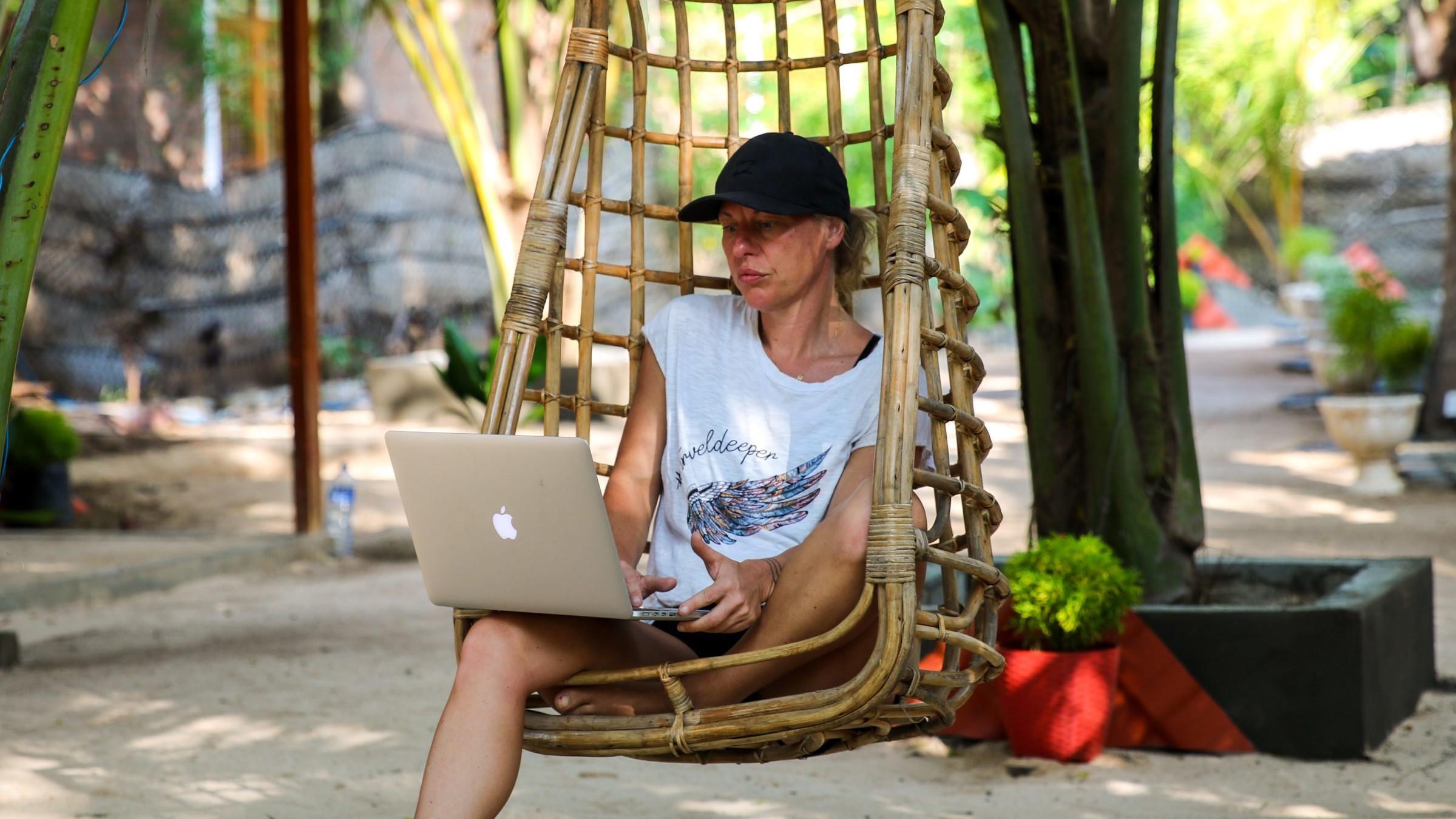 About Mille Sjøgren
Mille Sjøgren is a digital nomad, voiceover artist, podcaster and speaker. She has lived and traveled with her family for the last 10 years around the world and has visited more than 46 countries.
Mille's husband Kristian is a science journalist and author, and their children (Elva, 13, and Vigfus, 15) grew up in Spain and on the move since they were 3 and 5 years old. Mille also runs freeliving.dk, a community for freelancers and digital nomads, with another adventurer, Cille Rosentoft. Additionally, she has written the first book in Danish on the subject: Digital nomads. A life with more adventure and less everyday life.
The essentials
1. The Internet
Goes without saying. You cannot live as a digital nomad without the Internet. When I get to a new place, I use the Speedtest app myself to see if the internet is good enough for video calls, phone calls or to upload large files with. I also use Wifi Finder to find good internet connections nearby. The app also works offline.
2. Skype and Hangouts
Absolutely indispensable tools when, as a digital nomad, I need to have contact with my customers. I Skype from my studio, no matter where in the world I am. I use Hangouts mostly for friends.
3. Google Translate
Gives itself. You need it when you again can't remember how to say thank you in Indonesian or South Korean.
For navigation
4. Maps.me
A fantastic offline map, when the internet doesn't work anyway, and you're fooling around outside the country's laws and regulations without having a clue of where you are and where you're going.
Then of course I use Lonely Planet , Townske and other travel apps.
5. Worldclock
So I know which time zone I am in or will travel to. Smart if you are planning a meeting in a month's time, and you are going to Mexico, for example, then you can check what time it is.
6. Countries Been Fed
App that keeps track of which countries you have been to.
For work
7. Workfrom
An app where you can write that you are, for example, in Tulum in Mexico, and then it will find all the cafes and coworking spaces nearby. You can work from there and otherwise meet other digital nomads.
8. Blocser
A brand new app that I just downloaded which is a freelance app that works a bit like Tinder. You can use it to find work near where you are. Brilliant.
For easy management
9. Dropbox
So I always have my stuff together somewhere in the cloud.
10. Google Docs
I prefer using this for documents because they are easy to share with clients.
11. Trello
I use to keep track of my children's school day together with their online school teacher and to keep track of my own tasks. Brilliant for structuring your week.
For social media activities
12. Later
An app where you can schedule your Instagram (SoMe) posts, so you don't have to make them every day, but can plan for the week.
13. Canva
The coolest graphic design tool. I use it for everything; invitations, banners on Facebook, book covers – anything you need to design that needs to be a bit delicious.
14. LinkedIn
My favorite place to get new clients … and to give some of your knowledge, as well as get your messages out.
For easy breathing
15. Mofibo
Because I need to be entertained once in a while or have new knowledge.
16. Thehouseofyoga
My best app. Always have it close at hand, so I don't go completely cold in life as a digital nomad. Or check out Aaptiv, a fitness audio app.